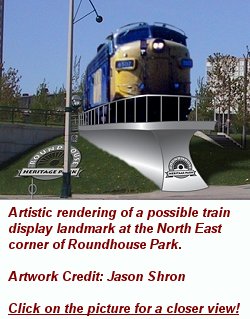 The geographical boundaries of the Toronto Railway Museum will encompass many different areas of downtown Toronto which, in the past, included vast railway facilities that stretched from Bathurst Street to Yonge Street.

The anchors of the museum are the former Canadian Pacific Railway John Street Roundhouse and the adjacent Roundhouse Park.

In Roundhouse Park the turntable has been restored and made operational and additional tracks have been built to display historic railway equipment. Cabin D was restored and relocated to Roundhouse Park.

The 1896 Canadian Pacific Don Station has been moved to Roundhouse Park and restored.

GO Transit will be retiring the Scott Street tower east of Union Station in 2013. The TRHA sees this as an opportunity to establish a third anchor site for the museum. The 1931 interlocking panel will be preserved, the observation bay will provide an excellent vantage point to observe train activity at Union Station and the tower can be used to house a historical display interpreting the history of the Toronto Terminals Railway and the building of the Railway Viaduct.

Guided walking tours of the many historic railway sites in the downtown Toronto area will tie the whole museum concept together.

This Railway Heritage Discovery Trail will link over two dozen sites of significance to Toronto's railway history.