CONGRATULATIONS RAILFANS! The TRHA has purchased LRC locomotive number 6917 from VIA Rail Canada. This unique piece of Canadian railway history has been saved. A special thanks to everyone who donated as we could not have done it without you! Now the fun really begins...





Congratulations! We have saved LRC #6917!
But we still need your help to get her up and running and fully restored!



PLEASE DONATE TODAY!




LATEST UPDATE: 12 SEPTEMBER 2012
Click on a link below to learn more:






What is the LRC?



The LRC (Light, Rapid, Comfortable) was built by Bombardier (MLW), Alcan and Dofasco in co-operation with CN and later VIA Rail Canada as a higher speed rail option for the busy Quebec City - Windsor Corridor. The locomotives were capable of travel up to 125 MPH (limited to 100 MPH in service) and powered VIA's Metropolis express train between Toronto and Montreal. These locomotives were a common sight throughout the Corridor from their introduction in 1981 until their retirement in 2001.



The LRC coaches are still the mainstay of VIA's fleet in the Corridor, and are currently being rebuilt for another 20 years of reliable service. The LRC perfectly straddles past and present. The engine was the last locomotive in North America built with an Alco 251 prime mover, and the LRC concept was the grandfather of Bombardier's high speed train program. Building upon ideas tested in the LRC, Bombardier has become one of the world leaders in high speed passenger rail equipment.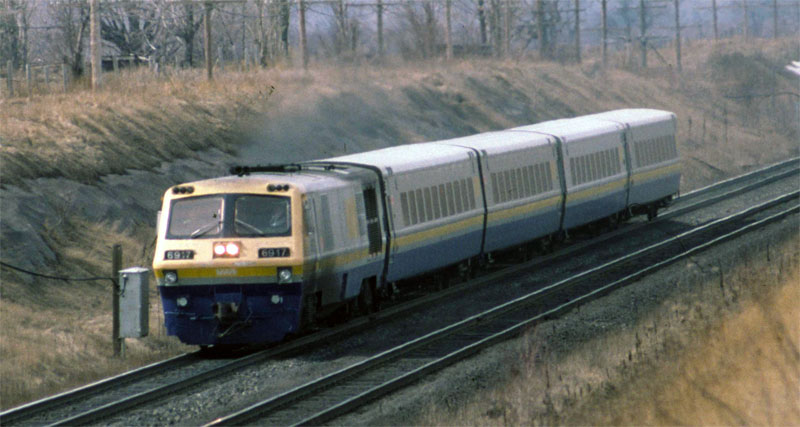 LRC locomotive 6917 leads a mid-day train to Montreal in 1985
Photo courtesy Kaluza-Mueller collection



LATEST NEWS - 12 SEPTEMBER 2012


It's been well over a year since our last update, but we've been busy. We spent all of last summer and fall working on 6917. Our mechanic, Chris Fox, along with many helpers from the TRHA's cache of volunteers, got the prime mover mechanically operational. After several weeks of work, it finally barred over - which means that everything moves smoothly.



The next step was to get a hold of some batteries and repair the electrical work. Thankfully, Chris has a brilliant understanding of electrical engineering and he was able to follow the diagrams generously provided to the TRHA by Exporail in Montreal. After a lot of work on the breakers and panels and after sourcing some CAT batteries that matched the requirements in terms of space and power, the loco was finally just about ready to start.



Last October and November we made several attempts to start 6917, but we were hampered by some electrical gremlins and battery contacts that kept melting! And then the winter hit and we had to button her up for the cold weather.br>


Over the summer we have got 6917 back to where we were and we plan to start her up (finally!) in September or October 2012. Stay tuned for more info in the coming weeks and months.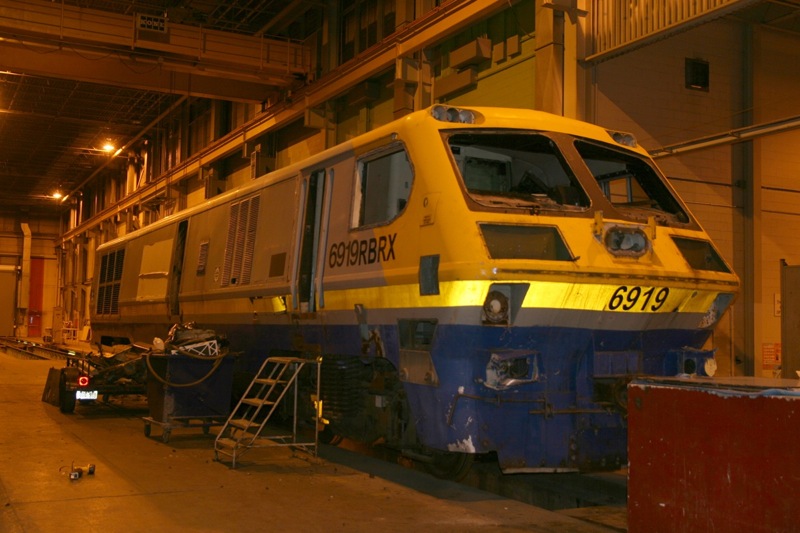 LRC locomotive 6919 at TMC after we removed most of the usable parts



17 JANUARY 2011 UPDATE


We have spent the last month removing parts from sister LRC locomotive number 6919, which was damaged in a sideswipe accident several years ago. This locomotive was owned by RB Railway Group in Lachine. RB Railway Group president Gerry Rosen generously gave us unfettered access to 6919 to take whatever parts we needed for the restoration of 6917. Locomotive mechanics Chris Fox (from Bombardier) and Rocky Panacci (from VIA) have been extremely helpful in telling us what parts to remove from 6919, and the whole crew at VIA's Toronto Maintenance Centre (TMC) have been very supportive of our efforts. Ownership of 6919 was transferred first to TRHA Board Member Jason Shron and then to Attar Metals of Mississauga. Attar Metals scrapped 6919 on Friday 14 January.



Tax receipts to donors will be sent out by the first week of February, and they will be packaged with VIA gift cards and/or model LRC coaches for qualifying donors. We don't yet have the hats or badges. They will be ready later in the year.



Over the next few months we will be working with VIA mechanics on their days off to fully restore 6917 to operating condition. More information will be posted here in the coming months, as well as the TRHA news page, which can be found here.







Dan Garcia, John Scalena (from VIA), Jason Shron, Michael Guy and Rob Doucet (from Western Mechanical) inspect the trucks of 6917 in the pouring rain, November 2009. Dan is wearing his invisible forcefield and as such is not affected by the rain.



Now that we have saved the LRC, what next?


Our original goal was to move the LRC to the Toronto Railway Heritage Centre at the John Street Roundhouse in downtown Toronto. However, initial inspections suggest that LRC 6917 could be operational a lot sooner than we originally thought. So we are now looking at keeping it off site as a roving ambassador for the TRHA.



The move to a local short line is still under negotiation, as our some other options which we will post here when we can. The focus is on getting 6917 operational, and thankfully that is happening RIGHT NOW rather than "some time in the future."








PLEASE DONATE TODAY!



What is our fundraising goal?


Now that we have purchased the LRC from VIA, there are still plenty of things to do. As mentioned above, our primary goal is to get 6917 operating. As such, our fundraising goals have changed.



Stage 2 Fundraising Goal: Make it Run - $7,000 - $10,000
We're just about there, so we can cautiously say that this goal has been reached.



Stage 3 Fundraising Goal: Make it Shine - $8,000
A cosmetic restoration of the locomotive, including automotive-grade paint professionally applied, will cost about $8,000. We will need volunteers to come help us sand down the exterior and fill any blemishes with body filler before the painters start their work. We are not certain right now whether to attempt this at TMC or whether to do this after the locomotive is taken off site. We will update this page when we know.



Stage 4 Fundraising Goal: The First Move - $TBA
We will update this fundraising goal once 6917 is operational.



So our short-term fundraising goal is a lot less than we originally envisaged. Seeing as we raised over $40,000 to purchase 6917 in a few short months entirely from individual railfans and enthusiasts, we are confident that we will be able to get 6917 operating, cleaned up, and moved to its first short line destination. We hope you are as excited as we are to be saving this unique piece of history.



So we still need your help to restore 6917 and ensure that future generations of railfans and historians will be able to learn about and appreciate the LRC and its role in Canadian railway history. Please donate today!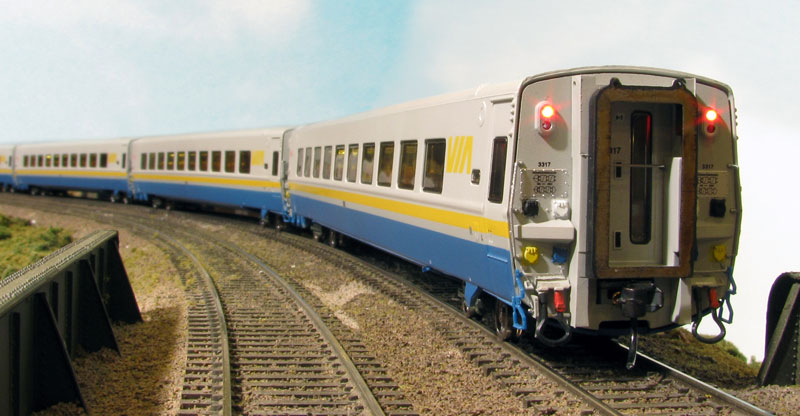 LRC Coach models from Rapido Trains Inc.



Thank you gifts for your donation


Your contribution is vital to our success. Here is what we can offer as a way of saying "thanks." Beside each donation amount below is a description of the accompanying gift.

$100: An exclusive LRC pin1
$250: An exclusive LRC baseball cap and pin1
$500: The above, plus a complimentary Rapido Trains Inc. LRC coach model2
$1000: The above, plus an additional complimentary Rapido Trains Inc. LRC coach model2
$2000: A free Rapido Trains Inc. model of 6917 (a $400 value)3
The TRHA is a federally registered charitable organization. All donations of $25 or more are tax receiptable. All donations of $500 or more will also receive the LRC pin and cap.


All donors of $1000 or more will have their names inscribed on a plaque mounted inside the cab of 6917.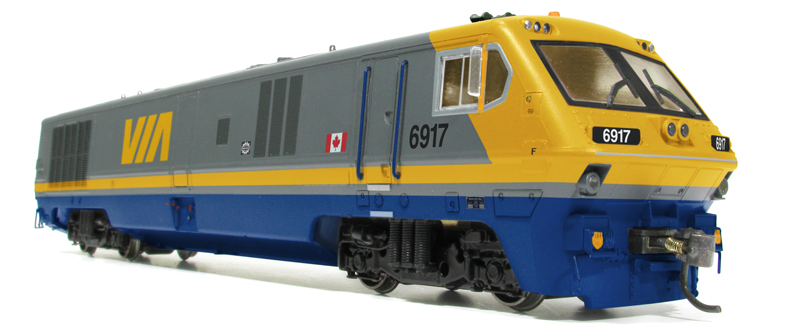 This exclusive HO scale model of LRC locomotive #6917 can be yours, only from the TRHA!


Buy an exclusive model of 6917!



If you can't afford a $2000 donation but you would still like to purchase an exclusive HO scale Rapido Trains Inc. model of 6917, please click on the link below to complete your purchase from the TRHA. The price is $400 plus taxes. Shipping (via Canada Post surface mail) is included. Your credit card will be charged immediately, and your model will be shipped to you when it is ready in 2013. You won't get a tax receipt for this purchase, but rest assured your contribution will go towards the TRHA purchase of the LRC.



Model Features:
DC/DCC with original LRC sounds
Newly-designed motor and gears for super slow-speed performance
Operating headlights, ditch lights, class lights and back-up light
Operating radiator fan
Numerous extra detail parts, factory-installed
Separate metal grab irons and grills, factory-installed
Operating rubber diaphragm
Macdonald-Cartier metal couplers